LOADING...

LOADING...

LOADING...

25%...37%...50%...65%...82%...100%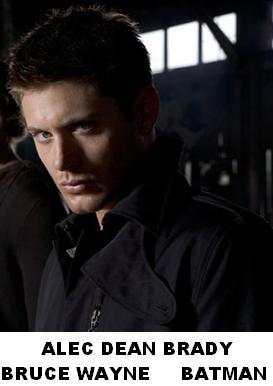 BATMAN
Real Name: Bruce Wayne
Alias: Alec Dean Brady
Age: 18
Background: As a child Bruce witnessed the murder of his parents by a mugger and was placed in the custody of their butler Alfred Pennyworth. After several attempts were taken on his young life an assassin finally managed to succeed when Bruce was twelve. Officially Bruce Wayne is dead.
After faking Bruce's death Alfred and Bruce, now going by Alec Dean Brady, left the country and stayed with some trusted friends of Alfred's. Even though they were in another country Alfred home schooled Alec to be on the safe side. The couple they were staying with taught Alec their own specialties. The man was a retired detective with a hobby for racing and the woman was a martial arts master. After a few years Alfred returned to the United States to clear some things up and Alec remained with the couple to continue his studies.
When he was fourteen the woman's old Martial Arts teacher paid them a visit and after seeing Alec practicing in the backyard he offered to train the teenager him self. Alec went with him (Without Alfred's knowledge) and spent three and a half years studying under Ra's al Ghul.
When Alec was seventeen and a half he returned to Gotham, but this time it was his choice not to let anyone know Bruce Wayne was still alive. He moved into an apartment in one of Gotham's worst neighborhoods and enrolled in the High School there. To cover his comings and goings from Wayne Manor him and Alfred say he's the ground's keeper.
Equipment:
Stories:
Picture Actor: Jensen Ackles



Command...